Max Verstappen is showing exactly why he's tipped as a future champion at the moment.
His drive in Brazil was stunning yet again, and it comes off the back of his drives to second from 18th on the grid in the US Grand Prix, and of course his dominant win in Mexico.
The Dutchman has always been quick, but now he is cutting out his mistakes and racing with much better judgement than earlier in the year.
He would have had two wins on the bounce had it not been for one of the most brainless acts of driving I've seen in a long time in Formula 1, from Force India's Esteban Ocon.
Ocon is super-talented, and it's a real shame he's not going to be on the grid in 2019, but his collision with Verstappen put a real taint on his driving skill.
He's had his fair share of incidents, mainly with his team-mate, and that's been a focal point of his career – and one of the reported reasons Mercedes were reluctant to promote him to their team for next year was because they were worried about team harmony.
His move on Verstappen on Sunday was just plain wrong.
We don't want robots in F1 – Red Bull boss Horner
'He's always been an idiot' – Verstappen fuming with Ocon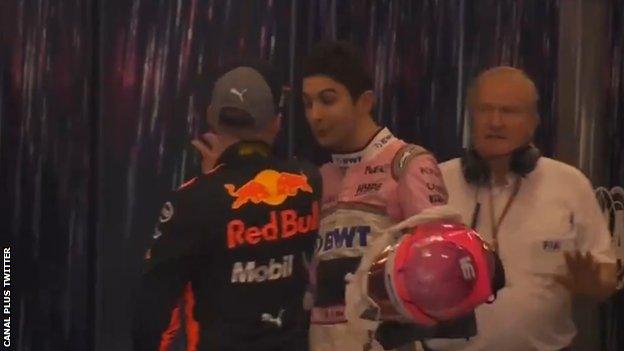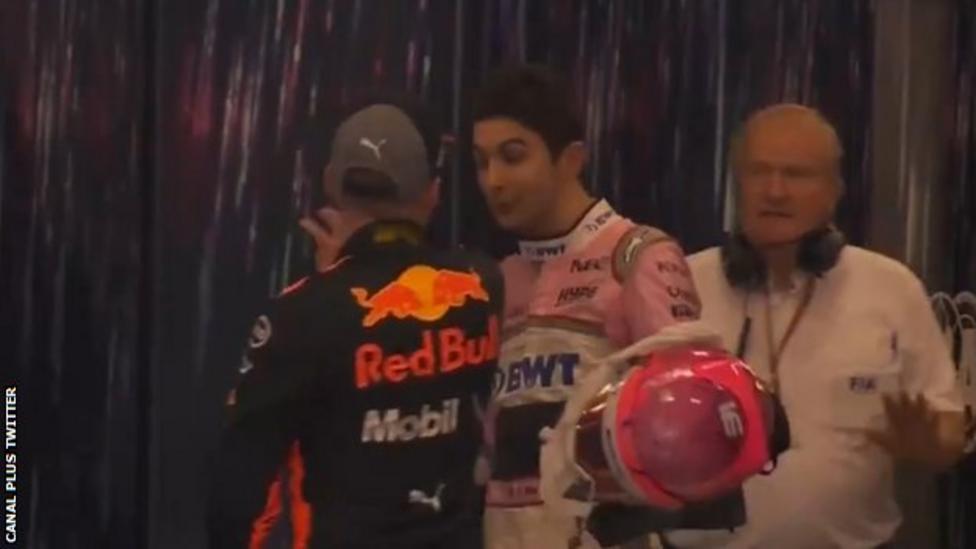 Ocon unlapping himself was pointless
Drivers are allowed to unlap themselves in F1, but they have to do it cleanly.
The sporting regulations dictate total respect for the race leaders' battles – the rule that they can only see three blue flags before letting a leader by is a good example.
It should have been obvious to Ocon that he should not compromise the leaders' pace when at the back of the field by scrapping as he took advantage of a brief new-tyre performance peak.
For that reason, the FIA was right to give Ocon a 10-second stop-go penalty – he didn't just compromise the lead battle margin; he lost Verstappen a win by hitting him!
Hamilton was the man to profit from the clash to pick up yet another win, and, as you would expect, he was quick to defend Ocon after the race.
Ocon is a Mercedes young driver, has worked closely with Hamilton and probably will again next year.
Hamilton argued to Verstappen that "you had more to lose than him", and yes, of course, in hindsight Verstappen may have thought he should have let Ocon go through, or at least left the door open to him at Turn Two.
But Verstappen was also right when he said: "You can't crash into the leader." And I'm sure Hamilton would have felt very differently if it was him having to defend and then getting turned around by a back marker.
Any pass would have been short-lived
It's not like Verstappen was going slowly and significantly holding Ocon up. He was lapping pretty much as quickly as anybody else on track.
OK, Ocon was briefly quicker. Midfielders can do that on fresh tyres. But after one or two quick laps, they have to get into their own race-management mode, saving a bit of tyres, fuel, energy on the battery, and their pace drops back to a more normal midfield level.
Had Ocon passed Verstappen, he would have had to let him by again a lap or two later. That would have cost Verstappen time at a point in the race when Hamilton was just a couple of seconds back from him.
When you have someone as successful as Hamilton fighting you for the win, you don't need to be messing around with a backmarker. It gives Hamilton a sniff of victory he shouldn't have.
As for Ocon, he was down in 14th place. His chances of even a single point were looking very slim. He was 10 seconds down on his team-mate Sergio Perez before they pitted, with two cars in between. Perez went on to claim that final point. It's hard to envisage Ocon would have beaten him.
Not only that, but if Ocon was thinking of trying to catch Carlos Sainz's Renault in 13th a tiny bit quicker, tucking in behind the race leader was a more effective way to do it than battling with him before having to mess about letting him by again a couple of laps later.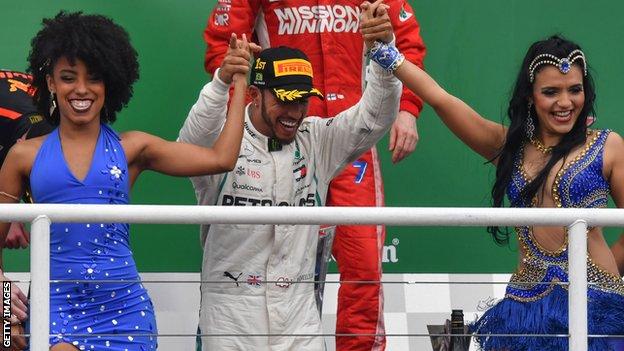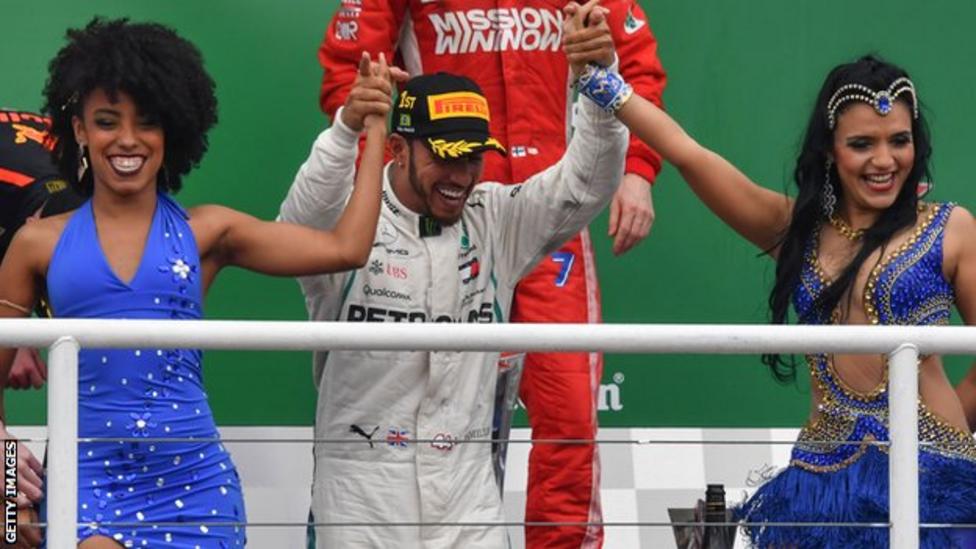 Move showed no respect
Would Ocon have pulled the same move on Hamilton? No chance.
Would he have pulled the same move on Vettel? I doubt it.
This was a move of frustration from a man who was big rivals with Verstappen in the 2014 Formula 3 season. He beat Verstappen to the title, yet it is Verstappen who is having all the success in F1 right now, and Ocon who is almost certainly out of a seat at the end of the year.
The frustration must have built up and there was zero respect shown for his rival.
He wouldn't have pulled the move on Hamilton because of Mercedes politics. He absolutely knew it would compromise the race leader's race. If it was Hamilton, he would have just kept his head down behind him.
With Vettel, I think there would have been a level of respect for a four-time world champion, and one of the senior drivers.
With Verstappen, none of that applied. No respect. Just foolhardy driving.
Verstappen deserved to win the grand prix. It was a thriller of a race and it is rare to see someone lead (or win) the race from fifth on the grid, having genuinely overtaken all of his rivals on the track.
Strategy helped in his pass of Hamilton for the lead because he pitted later, but he passed the other Mercedes of Valtteri Bottas fair and square into Turn One, and he overtook both Ferraris without the help from DRS overtaking aid as well, which is great to see (Vettel also had DRS on Bottas when Verstappen passed him so the advantage was negated).
Punishing Verstappen is silly
Verstappen's reaction after the race was understandable. He was rightly livid. He saw Ocon before heading to the podium and pushed him three times.
Verstappen picked up a two-day public service penalty from the FIA, which is silly.
People want to see drivers' emotions. This is the stuff of legend. Nelson Piquet karate-kicked and punched Eliseo Salazar in Germany in 1982 for a similar incident. Ayrton Senna came swinging at Eddie Irvine in Japan in 1993, when Irvine had unlapped himself on the Brazilian and given a cocky response when Senna went to talk to him about it.
Verstappen didn't physically harm Ocon. Sure, he pushed him a bit, but Ocon is a grown man. In a world where everyone claims the drivers' emotions and passions are being contained, Verstappen let it out and got punished for it.
If there was any legitimate threat to Ocon's wellbeing, then of course it would be unacceptable. But what Verstappen did was only the same as you usually get in football or rugby matches and is rarely punished. I can barely remember an incident when someone even got a yellow for a push.
Yet in F1, after one of the most controversial moments in recent times, it is deemed totally unacceptable.
I've been in Verstappen's shoes. I was taken out by a back marker in my GP2 days in my home race at Silverstone.
It wasn't F1 and I wasn't leading the race, but the frustration is through the roof when something like that happens. I also confronted the aggressor after the race and let him know my thoughts in no uncertain terms.
Unlike Max I didn't push him, but I did nonetheless pick up a hefty fine.
Source: bbc
"Content is King" – For TOP content placement services, visit The Online Publishers 'TOP Platform'